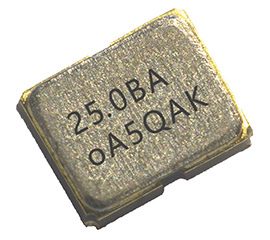 Excellent stability and jitter performance make SG-8201CJA ideal for LiDAR and ADAS electronic control units
Seiko Epson Corporation (TSE: 6724, "Epson") has begun shipping samples of the SG-8201CJA, a new addition to Epson's lineup of crystal oscillators (SPXO) with CMOS output1 for automotive applications. Offering high stability and low jitter2, the SG-8201CJA is a simple packaged SPXOs that typically measures 2.0 mm x 1.6 mm x 0.6 mm.
Applications in autonomous driving (AD), such as light detection and ranging3 (LiDAR) and vehicle cameras in advanced driver-assistance systems (ADAS) require a reference clock with a frequency in the 100 MHz range due to the high radio frequencies and high-speeds handled. Moreover, improvement in AD and ADAS performance has fueled rising demand for clocks that offer excellent stability and jitter performance. Demand is also strong for smaller products in all automotive applications.
Like its predecessor, the SG-8101CGA, the new crystal oscillator supports output frequencies as high as 170 MHz for automotive applications, but it has 50% better frequency tolerance and approximately 1/25th the phase jitter. The package footprint and cubic volume are also 64% and 55% smaller, respectively. AEC-Q1004 compliant, the SG-8201CJA operates at ambient temperatures up to 125℃ as required for automotive applications and contributes to automotive safety and reliability.
Epson has also started shipping samples of the SG-8200CJ and SG-8201CJ crystal oscillators for industrial and consumer applications. With this, Epson has assembled a lineup of products for applications in the consumer, commercial, industrial, and automotive segments.
Epson seeks to leverage its device technologies to realize a smart society. Toward this end, the company will continue to develop products for automotive applications in which uncompromising accuracy and safety features are demanded and that enhance the performance of our customers' products.
Product features
AD and ADAS-related features (e.g., LiDAR and vehicle cameras)
www.epson.com
comments