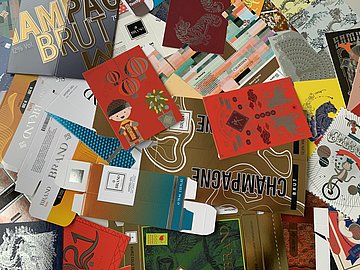 Recycling is an important element in LEONHARD KURZ's corporate strategy of sustainability. By collecting, processing and reusing materials, not only can the consumption of valuable resources be reduced, but also CO2 emissions.
The expert for high-quality finishing options is now using the latest findings from a study commissioned by the FFI (Fachverband Faltschachtel-Industrie e.V.) on the recyclability of folding boxes to push the reuse of decorated packaging even further. For example, the innovative and ultra-thin KURZ transfer decoration, which enables state-of-the-art designs for packaging by means of hot stamping, cold transfer or digital transfer, is more environmentally friendly simply because it does not leave a PET carrier film on the product and does not use laminates. Extensive tests carried out as part of the above-mentioned study in cooperation with the well-known hygiene paper manufacturer Essity have now also proven the extremely good deinkability and recyclability of folding cartons decorated using KURZ finishing. From the corresponding monofractions, the highest-quality pulp can be obtained, which can be used for bright new papers, tissue papers and cardboard covers. This is also confirmed by Anne-Katrin Klar, PfR Sourcing Manager, Essity Operations Mainz-Kostheim: "The printing plant waste provided by KURZ for the production of paper towels from waste paper could be processed without any problems and without any changes to the process. There were neither increased dirt specks or losses nor any impairment of the degree of whiteness."
25 tonnes of waste provide important insights
"Products finished by us are recyclable. Independent associations such as INGEDE for deinking or the DIN-EN 13432 certification for compostability have already confirmed this for many years," emphasises Dr. Markus von Beyer, Environmental & Safety Manager at LEONHARD KURZ. "But now we have also been able to show that recyclers can accept our packaging and turn it into a high-quality, new product." For the tests used to conduct the study, around 25 tonnes of paper waste were collected over several months. "Such an elaborate procedure around the reusability of industrial waste is probably unique in the industry so far and probably not easy for us to replicate," underlines Dr. Markus von Beyer. Axel Fischer, Head of Public Relations at INGEDE, is also pleased about the successful test series: "This operational test, in which up to 30 per cent of residues from refining served as raw material, confirms our earlier positive results with a number of different products from KURZ."
The new findings are a win-win for all parties involved: while often downcycling has been practised to date, producing material of inferior quality, we now have proof of a more profitable solution for these fractions. Thanks to the certifications initiated by KURZ on the deinkability of decorated folding boxes and sheets, it is now more worthwhile for paper recycling companies to accept such waste, as they receive high-quality material from which new quality products can be made. "We are pleased that we can now prove to our customers in this way the most important aspects to consider around a recyclable product," says Dr Markus von Beyer. "This is an important milestone in our sustainability strategy!"
comments