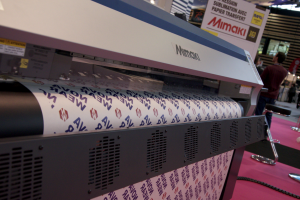 The leading manufacturers and distributers of wide-format and textile printing systems convened at C!Print to discuss the key issues in the textile industry.
The inaugural regional trade show was staged in Lyons from 5 – 7 February, and is set to become a key fixture for companies involved in digital, personalisation and textile printing technology, and associated applications.
On the opening day of the show, the magazine Signal' Etiq organized a networking cocktail event based on the theme "the challenges of textile printing". Mike Horsten, Marketing Director of Mimaki EMEA, took part in the event. During his presentation Mike confirmed the strong growth of textile printing and the expansion of digital printing, which is gaining market share, as well as the need for developing more ecological and durable systems and consumables.
When questioned on latex printing, Mike stated that this technology isn't the most suitable for textile printing. He asserted that printing by sublimation is more appropriate – a sector in which Mimaki has been at the forefront since the end of the nineties.
Mike commented, however, that latex printing is ideal for printing wallpapers, textile coatings and all other textile decorations for the home. He added that latex is a revolutionary technology which is set to grow in terms of both its adoption and applications.
Jean Poncet, editor-in-chief of Signal' Etiq, acknowledged Mimaki's input at the event: "We greatly appreciated the presentation by Mike Horsten. Mimaki spoke to us about the market rather than products, which is exactly what our listeners expected."
Mike Horsten adds: "To bring together the key players in the market and discuss the topics of most concern to visitors is an excellent idea."
"Mimaki will continue to invest in the textile printing sector in the coming years, though we won't forget our origins in signage and our competitive advantages in the printing industry. As ever, we will closely monitor market trends to make sure we remain the innovative, visionary business that we've been for 39 years."