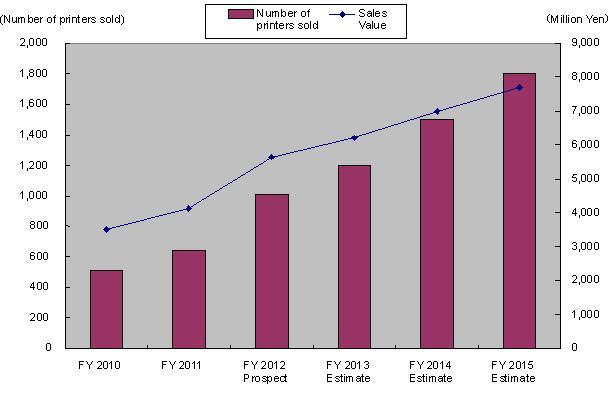 Yano Research Institute has conducted a study on domestic 3D printer market with the following conditions:
1. Research period: From October to December, 2012
2. Research targets: 3D printer manufacturers, leading dealers, trading companies, etc.
3. Research methodologies: Face-to-face interviews by the expert researchers, surveys via telephone/email, and literature research
What are 3D Printers?
3D Printers in this research indicate those devices that fabricate three-dimensional (3D) materials based on 3D data. There are several techniques for rapid prototyping depending on what materials are used: FDM (fused deposition modeling), inkjet, powder, and light modeling.
3D printers are in demand for industrial and R&D use to test and validate some designs and functions, for medical use to fabricate dental cast, human phantoms, and welfare devices, and for educational use to create educational tools.
Summary of Research Findings
n 3D Printer Market for FY2011 Expanded to 4,125 Million Yen, 638 Printers
Number of three-dimensional (3D) printers sold in FY2011 was 638, 125.3% of the previous year, or 4,125 million yen in value, 117.7% of the previous year, based on the sales of businesses.

In addition to the already-established, stable demand for industrial and R&D use (both new and replacing demands), there emerged new, low-priced 3D printers attracting mid- or small-size companies and educational facilities those of which had been unable to adopt due to the price. Also, some companies have started a new service to lend 3D printers and 3D scanners by the hour, targeting young designers and art students, to broaden the user-base and increase potential customers.
n Domestic 3D Printer Market for FY2015 may expand to 7,700 Million Yen, 1,800 Printers
Every manufacturer, from consumer products to producer goods, is facing some challenges: shortening of hours to create products; responding to ever-more diversified items; and coping with shorter cycle of consumption. With domestic consumers especially demanding for quality and performance, there are increasing cases of manufacturers considering 3D printers to be one of the solutions for reducing production time and keeping high quality and high-performance functions when manufacturing products. This tendency is accelerating, not only confined to large companies but also in mid-sized and small-sized companies.
3D printer market, therefore, is estimated to grow further, selling as many as 1800 printers, attaining 7,700 million yen in FY2015, based on the sales of businesses.